What is My Home Worth?
Receive a custom evaluation for your home, including comparisons to other homes that have recently sold or are on the market. This guarantees you receive the most accurate information available. To find out what your home is worth, fill out the information below:
We have helped hundreds of Alaskans buy and sell homes over the years.  Here is our online resume.  We would love to help you too!
Recognized by ActiveRain as a 2013-2014 Top Contributor for Real Estate Blogging.
This monthly updated report can give you an in-depth look at Home Prices in Anchorage Alaska and current market trends.  Feel free to call or email to discuss this information.  To request a free custom evaluation of your home's
market value in Anchorage Alaska
, fill out this simple form. 
We are experts in online property marketing!  Katrina Benton has earned the Internet Marketing Specialist Designation. With more than 20 years experience in the Anchorage market, we can help you sell your Anchorage home! - Read more about our Property Marketing Plan for Homes in Anchorage Alaska.
When you're looking for a partner to help you negotiate the complexities of selling a home, you've come to the right place. The experience, dedication and strong communication you'll receive here will help ensure the successful and profitable sale of your home:
1. The Local Advantage - Take advantage of a broad spectrum of technologies and tools to support the sale of your home from start to close.
2. Internet Advertising - Since the lion's share of home buyers starts their search on the internet, top placement on search engines is essential. You'll gain access to placement on Google, Bing, and other websites. This will maximize your exposure and bring a large number of potential buyers to view information about your home.
3. Email Campaigns - It's important to "work the network." We can work together to identify the right people to target your home-and get in touch with them by email to drive excitement and interest.
4. Personal Touch - Of course, technology alone won't sell your home. Face-to-face interaction provides the advantage to sell your home and you won't have to worry about a thing. The details will be handled with care and constant communication, to ensure the marketing and sale of your home go smoothly.
Home Listing Syndication
Your home can be advertised on websites all across the web, making sure buyers see your home and everything it offers. Here are some of the national sites where your home will appear:
To find out more about selling your home, click here
What My Clients Say About Me:
"Katrina was VERY tenacious in her professionalism. She was the subject matter expert for every question I had and was very thorough in her information and did not leave anything unanswered. " Rosa R.
"Katrina Benton absolutely went the extra mile when it came to making the sale of my tri-plex work. Without a doubt, she'll be the agent I call when I sell my current home." John L.
"Katrina helped us find a bigger home for our family. She was extremely helpful and flexible with times and listings to show us.
I would recommend her as a great agent." Paton S.
"Smart, hard working, understands the market, great at listening to me patiently as I tried to figure out what was just right, we looked a lot, had a couple fall through and Katrina never wavered. Really good negotiator and navigator through the whole process - loans, inspections, appraisals, etc. Katrina is great." Sky S.
"Katrina is the best agent out there! She is down to earth, hard working, so easy and fun to be with and doesn't stop looking till you have found the perfect house for you! She made our first buying experience very enjoyable and stress-free! Would definitely recommend Katrina to everyone!" Stan & Erika H
"Katrina is very knowledgeable about the Anchorage market. I have no hesitation in recommending her." Steve R
Get the most accurate and up-to-date real estate information right at your fingertips! Download the Keller Williams Realty Real Estate Search app for Anchorage AK to your mobile device for great features like customized searches, map draw, agent connection, and shareability!
To activate, enter code

KW2HNPEXH

when you install the KW app. - See more at:https://app.kw.com/KW2HNPEXH
Because Your Home Search Should Go Where You Do!
Get the most accurate real estate information right at your fingertips:
Easily connect with me and send property inquiries instantly.

Give your index finger a workout by drawing a perimeter or dropping a pinpoint on a dynamic map. 

Customize searches and localize points of interest

See a home you like?  Scroll through vivid photos, add it to your favorites, or share the listing with a friend.  

Estimate your home loan with a free mortgage calculator.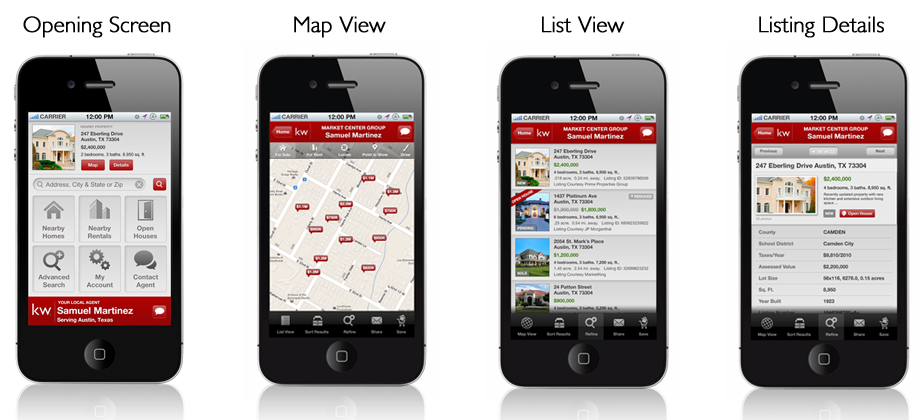 All content on this site is Copyright © 2013 Katrina Benton. Please don't steal.